[op_social_networking style="style-3" background_color="#3e87d3" icon_and_font_color_box="#fff" new_tab="Y" facebook_url="https://facebook.com/marjabothavandoorn" twitter_url="https://twitter.com/MarjaBvD" google_url="https://plus.google.com/+MarjaBothavanDoorn" linkedin_url="https://linkedin.com/in/marjabothavandoorn" instagram_url="https://www.instagram.com/marjabvd1" youtube_url="https://youtube.com/marjabothavandoorn" pinterest_url="https://nl.pinterest.com/marjabvd"]
Tip-of-the-Iceberg Coaching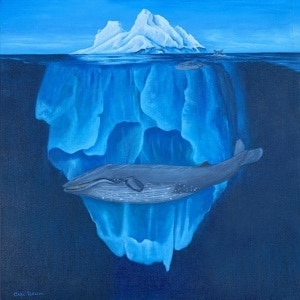 Tip-of-the-iceberg strengths-based coaching is a super fun and hugely informative journey where I will sit with you and do a minimum of a 90 minute coaching session on a one-on-one basis. We'll mostly do this over Skype, FaceTime or WhatsApp. (But if we happen to be in the same part of the world, we could also get together in person.)
This process can only take place after you've done your Gallup Strengthsfinder assessment and received your results.This assessment is based on over 50 years of research in human behavior. You can find more information about the background and validity of the assessment here.
Reading your results will give you information about your talent themes.
Knowing your talents, is good. But really understanding and embracing them is absolutely AWESOME! And that is what I will help you do. I will show you the profound impact your Top 5 talents have on you and everything you do, feel and think.
There are 2 stages to this coaching process and they correspond to the first two stages of our R.I.S.E framework. YOU can choose up to which stage you would like to go. After each stage you will get short video clips and more reading material to help you understand your talents better.
Stage 1: Education (90 minutes)
I will explain the exact detail of each of your strengths as well as the impact each strength has on the other strengths and how the dynamics of your strengths work. Each combination sequence of strengths is completely different to another person's top 5 strengths sequence. After the Education stage you will also know exactly which one of your top 5 strengths is your main strength and which one gets you going.
Stage 2: Implementation (1 hour per session)
This is the stage where after your first 90 minute session you'll have a minimum of 2 implementation sessions. This will give you a chance to fully embrace and develop your strengths in every area and role of your life.
During these sessions I will teach you how you can apply each of your strengths to the different roles, demands and responsibilities in your life.
What you'll benefit from Tip of the Iceberg coaching:
Reading your report is interesting. Me, taking you through the process of really understanding, embracing and polishing your talents into strengths is TRANSFORMATIONAL. Your life and career will just never be the same again. Here's why:
You are incredibly unique. ONLY 1 in 33million people have the exact same top 5 strengths sequence as you have. It is empowering, inspirational and hugely exciting to understand how your specific sequence works. That is what this coaching process will do for you.
You'll get a in-depth understanding of where your strengths lie and understand why you do the things you do the way you do them.
You'll understand why you buy and spend time on certain things
You'll be able to understand, identify with and embrace each of your strengths, so that you can consciously direct your efforts in life in a way that comes naturally to you.
You'll know how to apply your strengths in each area of your life, career or business to experience a more fulfilled life with more fun and less effort.
You'll be more confident in who you are and your incredible unique gift to the world. And NO, it's not just in some of us. It's in ALL of us.
Your personal and work relationships will improve because you will understand yourself better and you will appreciate other people's differences more.
You will understand how to successfully apply your talents in your career or business

---
Requirements for starting this process:
1) Commitment and Drive to excel and become the BEST version of yourself:
I love helping and inspiring people to succeed. And I'm great at it. It's one of my gifts. And I do my best work with people who want to help themselves. People who are driven and committed to their own success and happiness.
2) You must have done the Gallup StrengthsFinder Top 5 assessment : 
Since the core of this process is based on a more than 40 years of solid research in human behavior, you need to have completed and send me your Gallup StrengthsFinder Top 5 report.
You you can buy a code to take the assessment here: Gallup StrengthsFinder Top 5 assessment 
The assessment is taken online (when you have about 30 - 45 minutes of time to spare) and your report will be emailed to you as well as stored on your own private virtual online environment. In this virtual environment you wil also find other resources to help you develop your talents so you can become more of the incredible person you already are.
3) An open mind and willingness to have FUN
I believe that we're not here (on earth) for a long time. We're here for a good time. So let's make the time we are here, worth it. Let's make it fun. Let's make it inspirational. Let's make it phenomenal!
YES, Marja - I'm very keen to follow this program. When can we start?
I'm very keen to do this program, but how do I know if you're the right coach for me?

---